Open Top Steel Containers
If you are looking for a storage container that has a removable top, then an open top steel container may be what you are looking for. Unlike traditional storage containers, these open top units offer users the flexibility of a removable roof, typically either a hardtop or a soft tarpaulin material. Along with side doors, these removable open tops provide users with ample opportunity to maximize the use of the steel container.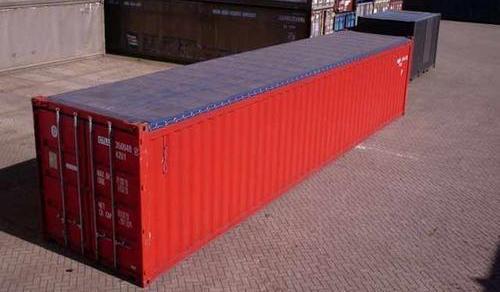 Also Known As Open Top Sea Containers
When cargo is placed inside of shipping containers, it is typically to transport it from one place to another, oftentimes at sea. These open top containers, also known as open top sea containers, allow users to move cargo around from the top using heavy machinery such as cranes. Items inside the containers can be lived up and out of the unit with the open top versus having to only be able to use the small side doors on a standard unit.
When might an open top sea container be used? If an item is too talk for a typical, standard side door storage unit, the user is able to remove the roof and ensure that the item is inside the unit but not being crushed or damaged.
Characteristics of an Open Top Container
While we mentioned above that the roof is removable, the different types of roofs are designed for different uses:
The soft top version can be swung away at just a portion of the unit, so that it uncovers one section but the remainder stays covered. The soft top is attached via a header rail that can be removed or swiveled.
The hard top version are a more durable option that prevents elements, such as rain, from damaging the cardo when covered. The hard top does a better job in keeping the unit dry, however, it still can be removed when necessary. Unlike the soft top, the hard top does require a crane to remove it, so it cannot be done as easily as the soft version.
Choose The Best Open Top Storage Container For Your Needs
Regardless of what your specific cargo needs are, you can rest assured that an open top storage container will provide you with the security and ease of use whenever you need to access its contents. These two different types of steel containers are designed with your needs in mind; the hardtop unit can even double as a regular standard storage container when the roof is placed back on top. Let US Container Sales help you find the right open top steel container.
Related Resources