Shipping Container Costs
Once you have decided you need additional storage and find that a storage container might be the best fit, you might start thinking about what it will cost you. You will need to determine whether it is more cost effective to rent or purchase a container, how long you plan on keeping the unit and whether this is a permanent or temporary solution for your needs.
US Container Sales has put together the following guide to ensure you are provided with information to help you make a decision. Finding an affordable shipping container can be easy with the right information.
Shipping Containers - What Are They?
Shipping containers are large steel units for storage that come in standard sizes such as 20 or 40 feet long. They can be customized to users' specific needs and can be used in a variety of ways. When searching for storage containers, you may come across different types or ways of describing units such as:
Open Top / Sea Containers
Dry Storage
Tunnel
Open Side
Double Door
Insulated / Thermal
Refrigerated / ISO Compliant
What Are Refrigerated Shipping Containers?
This may be the first time you have heard of refrigerated shipping containers and they are exactly as they sound. They are shipping containers that are insulated and designed to stay at a constant set temperature to ensure that its contents remain cool for shipping. Regardless of what temperature your product requires, these units can be made to withstand transportation without harming what is inside. By utilizing diesel or electricity, these units can be easily customized to fit your needs and come shipped to your door with the temperature preset to your specifications.
Pricing on Shipping Containers
When looking to purchase a container, you will come across a variety of ways that a unit can be purchased for a higher or lower price. These units, at their most basic stage, come in standard sizes and lengths, with a door at one end. If you plan on doing any type of customization, the price will typically reflect those changes. The type of container can also greatly impact your pricing as will the overall capacity. Finding out the exact specifications and modifications the container includes can help you determine if you are getting a good deal on a steel storage container.
Another factor is whether you plan on purchasing outright or if you would rather lease the unit and pay a monthly rent until you no longer need the unit. Whether renting or purchasing, you also need to add in costs that include shipping/delivery. Below are the differences in renting versus purchasing.
Costs for Renting a Storage Container
If you plan on only keeping a storage container on your property for a few months or even a few years, it may be more cost effective to rent or lease the unit rather than purchasing it outright. When you rent a unit, the delivery fee should include delivering to your property as well as the removal costs. This will allow you to plan ahead and know the full costs associated with renting.
Typically, it can cost anywhere from $70 - $130 per month to lease a 10 foot basic storage container. The larger the unit and the more upgrades, the more it will cost per month. However, because you plan on renting for a short period of time, it may be worth to invest in the best rental for your needs.
Ideally, it is best to compare rental versus purchasing quotes to see if you might be spending more per month on a rental. Sometimes, it pays to purchase the unit outright and when you no longer need it, you can privately sell the container.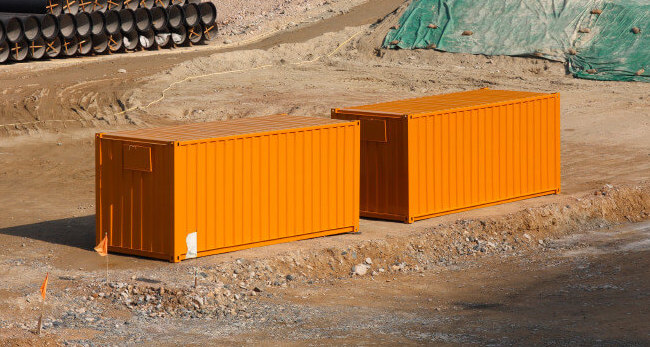 Costs for Purchasing a Storage Container
As with purchasing any kind of equipment or machinery, the upfront cost can be quite large but the day to day usage can make those costs worth it. Depending on your needs, you may save money by purchasing a storage container outright and having it delivered to your property.
Standard prices for a basic storage container can be as low as $1,700 and go up to $5,000 for the more upgraded units which can be larger and provide more features. Brand new, insulated, high quality containers can reach up to or over $10,000.
A way to minimize these costs is to look at used shipping containers - these units have been previously owned or used for a period of time and are now being offered at a fair, lower price.
Used Storage Containers
Purchasing or renting storage containers can be quite costly, especially if you are needing one that is upgraded with extra features such as refrigeration. If price is an issue, you may have luck finding a great quality used storage container that not only provides you with what you are looking at, but one that comes at a great price.
Most shipping containers that have been retrofitted for a specific customer and then resold will come at a much lower price at the features inside might be user specific. If the unit fits what you need, you may be in luck in being able to rent or purchase the unit at an affordable price.
However, while used containers still offer you the same type of storage capabilities, if you are looking for a unit that you intend to use for many years, it may be wise to invest in a new unit. Weighing the pros and cons of each unit will give you a better picture.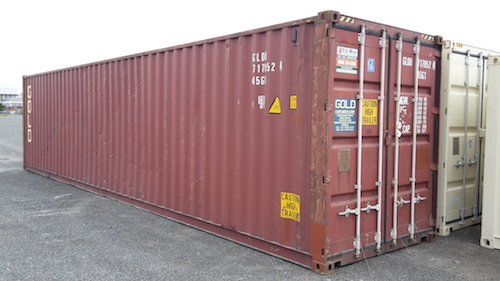 Storage Containers: How to Buy or Rent
Here are some of the best way to get the best price on a used or new steel storage container, whether purchasing or renting.
Identify Your Needs
Asking yourself what you are looking for in a shipping container is the first place you need to start. Depending on your needs, you may require a specific unit or may benefit from purchasing rather than renting, or vice versa. Here are some questions you can ask:
What do I need the unit for?
How long do I need it? Will it be for just a few months or years? Do I want to keep it permanently?
What size in length do I need? Do I need it to be taller than 8 feet?
Will one set of doors on one end suffice? Do I need a second set? Should the top/roof be able to be removed?
Do I need to customize the inside?
Does the unit need to be refrigerated? Will it be storing perishable items?
Get Multiple Quotes & Compare
The easiest thing you can do is to get multiple quotes and compare them to figure out what will work best for your needs and wallet. It cannot hurt to get a quote on a new or used container to purchase as well as a new or used container to rent. This will allow you to see all the details laid out in front of you. The last thing you want to do is purchase the first unit you can find only to realize down the line that perhaps purchasing was not the best fit and that you were not aware that renting may have been more cost effective.
Take note on each quote on the quality of the unit. If it is a used shipping container, you may ask to get more information about the age of the unit and see if you are able to obtain photos of each angle. By getting multiple quotes, you will be able to rule out any company that is offering the same unit at way too high or low pricing and you will be able to make an informed decision.
Delivery Fees - Keep These In Mind
When searching for a storage container, keep in mind that most prices you see online do not include the cost to deliver the unit to you. If you plan on renting, it may not include the delivery to and from your property so it is important to verify and get it in writing. Due to the size of these storage containers, delivery fees can be quite costly. Make sure that your property or business entrance can accommodate the semi-trucks that will be hauling these units to you to avoid costly additional fees.
Related Resources