Guide to Buying New and Used Shipping Containers
If you are looking for additional storage space on your property, or would love to have a portable office workshop, buying a shipping container may just be what you need. Whether you are looking for a used model or a brand new one, you deserve to have a quality container. Here are a few tips on how to find a great deal on a new or used shipping container.
Buying Containers Can Come With Risks
US Container Sales makes it easy to find a high quality container without all the added stress by letting customers pick and choose their container size and type right on the website. However, with any purchase, there are a few things you should consider before choosing.
Risk 1: Pricing - Are you paying too much?
When price shopping, you will notice some competitors have higher pricing for the same type of container. This does not mean it is a higher quality container, but that the company is looking to make a profit. US Container Sales prides itself on being transparent with our pricing. Our shipping fees and container prices, for both new and used, are market value so you can rest assured you are getting a high quality container at a fair price.
Risk 2: Condition - Will you get exactly what you see?
Buying online can be a little scary, but with our company, what you see is what you get. You will not receive a container that is in different condition that what you were promised. Some companies may hide defects by only showcasing the good side of a container in photos; you can rest assured that is not the case on our website.
Risk 3: Delivery Issues - Are they reputable and are the fees included?
When purchasing online, sometimes it can be unclear whether delivery fees are included or not. The actual cost of the container plus the fees should be prominently displayed so that you are not surprised once you go to pay the entire bill. While damage can occur during delivery, a good delivery company will ensure and protect the container.
Customer Support - Does it stop once purchased?
Customer support should continue not only when purchasing a unit, but through the entire process and delivery. While problems do occur even with the best delivery company, a reputable company ensures customer support throughout the entire process. Whether the unit delivered is not what you expected, was damaged or has other issues, having a quality company who provides continuous customer service is essential. Buying a super cheap unit from a company might suggest you will get subpar customer service, so it is imperative you do research beforehand to get the best possible support.
Shipping Containers: Purchasing vs. Leasing. Which is Best?
Once you have decided you need a shipping container, the next choice to make is whether you will be purchasing or leasing the unit. Because shipping containers can be quite pricing, leasing may be the best option. How do you know if you should rent versus buy? There are a few things you need to consider before making the plunge. Below are some steps that can help you make the right decision for what you are looking for and for your pocket book:
Consider the purchase price: Find out what the total price would be, including cost of the actual unit, delivery fees, installation fees if required as well as taxes and any upgrades you plan on making.
Length of ownership: Do you only need the unit for a few months or years and then plan on getting rid of it? Do you have a long term goal? If so, purchasing a unit may be best as you can use it for what you need and later down the line, use it as something else or sell it for profit.
What are the costs for renting: If the length of time is specific and you do not want the hassle of having to sell it and find a company that can remove it from your property, you should consider renting/leasing. Leasing costs would include delivery and removal as long as it is specified in the contract. Long term leases can even provide you with discounts on pricing.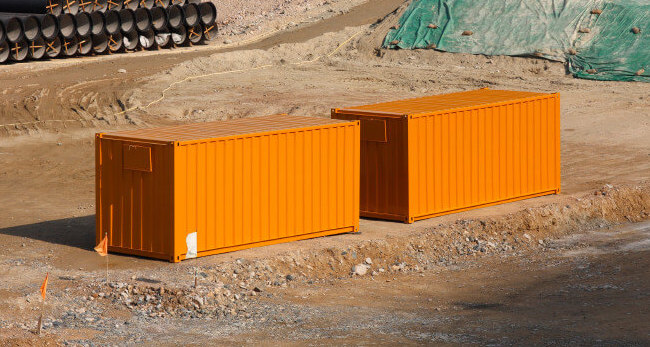 So Which is Cheaper?
Depending on what your needs and wants are, there are benefits and drawbacks to both purchasing and leasing. Leasing tends to be more favorable in immediate costs, as it takes very little to get started. Purchasing is a larger commitment upfront, however, you do not have to worry about any monthly costs. To get the best idea of what your needs are, it is best to think of what you will need in the long run, do a pros and cons list and see which option is better suited for your specific situation.
Shipping Container Types
Whether you are looking for new or used shipping containers, you will come across descriptions that may not make any sense. Here are a few different ways containers may be described and what each of those means.
New Containers: "1 Trip"
If a shipping container is described as being a 1 Trip, it is to let you know it is a brand new unit. These types of containers are manufactured overseas, filled with goods and then once unloaded state side, they are then sold to you as new. The 1 Trip refers to the fact that they have been used for a single transaction in arriving in the States. While it is possible that the unit may have a few scrapes or dents from the actual transport, these units are as new as they can get.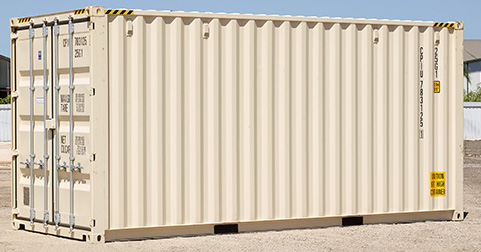 Used Shipping Containers
Depending on where you purchase a used container, the definition of what "used" is can vary. If you purchase from a reputable company, their used containers may have one been used by a single person or for a short period of time. However, if you are purchasing the unit from an individual, it is possible that one persons slightly used condition can vary greatly from another. It is possible to get a used unit that is rusted throughout and clearly beaten up. It pays to ask questions and find out just how used the unit really is before purchasing.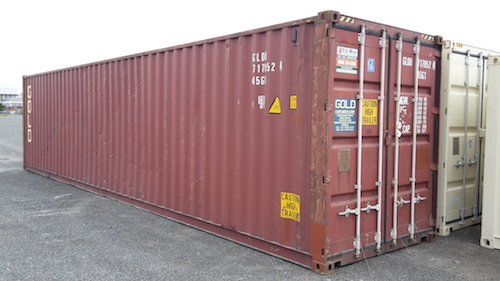 When looking at used containers, you might see these three classifications:
Used Cargo Containers: Ideal for cargo use, these are typically in excellent used condition and often they are slightly cheaper than a brand new unit but not as cheap as one that has been heavily used.
Used Wind & Water Tight: Used Wind & Water Tight: Units that specify WWT have been used for a period of approximately 7-16 years. These units definitely have more wear and tear than one trip containers as well as most cargo containers. These units, although heavily used, are still ideal and are certified to be wind and water tight, with doors and seals functioning as they should.
Used "As-Is" Containers: Just as anything else that is sold "as-is" these containers may come with significant defects such as holes, rust or damaged parts. For those who are handy, these units are an excellent way to save money as it is possible their maintenance costs are still far lower than the cost of a brand new unit. However, someone who is purchasing an "As-Is" unit should be aware of the risks involved in buying it.
How To Find The Best Container
What you may be looking for is the best container in the best condition, which will come at a higher price. However, if you plan on purchasing the container, it is ideal to find one that higher quality and in the best condition as it will last longer than a used or as-is unit. A new unit can expect to last at least 40-50 years while a well maintained unit will be less but still have a long life if properly taken care of.
Get Your Money's Worth
Although used shipping containers do come at a lower cost, it is still essential you do your research so that you get a good quality container. Just because a unit is considered used, it does not automatically mean it is about to fall apart. Knowing what to look for when shopping is essential so that you can get an informed decision. You want to make sure you get the best quality for your money and inquire regarding the actual usage of the used unit, what it's previous life span was and what you can expect when you receive your shipping container.
Shipping Containers: Where To Buy Them?
Just like when you are car shopping, it pays to do some research before making any big decisions. It is imperative that you do your homework and find out what each type of unit entails and what its costs are. The best way to make an informed decision, is to find a reputable seller whom you can trust. While you can easily go onto sites such as eBay or Craigslists, is might be in your best interest to find a seller who is local to you or who can deliver to your area who specializes in shipping containers.
Local Dealers
If you live in an area that has a shipping container local dealer, you can easily find out first hand whether the unit you are interested in meets our needs. These local dealers may even allow you to come onto their site to check out the unit first hand. You may even be able to look up local reviews to get a feel for the company and its practices.
Individuals
Some individuals who previously decided to purchase a container but have ultimately found the need to sell them might be a good source in finding a deal. These individuals may need to sell the unit for a number of reasons and because of this, might provide you with a deal that you can't beat. Oftentimes, these units are still in great shape, but it definitely pays to do your due diligence in asking questions and finding out as much as you can on how the unit was used and cared for.
Shipping Container Suppliers
For the best and most reliable source, we suggest you look into companies who specialize in the sale and/or lease of shipping containers. US Container Sales deals with these and due to our immense knowledge on different units, we can answer any and all your questions so that you can make a full and informed decision.
Whether you are leasing or purchasing, it is best to do so with a company that can offer you the unit you need as well as the customer support needed throughout the entire process. Most supplier companies may even offer certified condition guarantee on their units which may provide you with a greater peace of mind.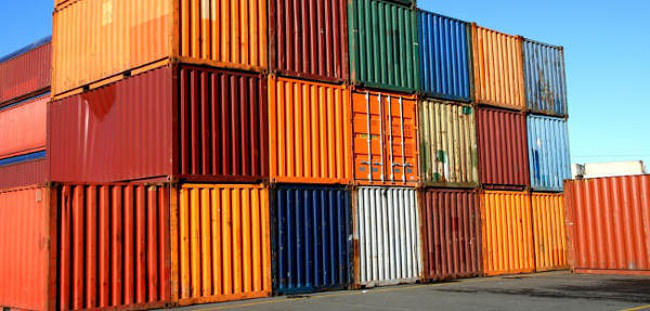 Prices: How To Get A Great Deal
The costs associated with storage units can be quite high due to many factors. Below are a few examples of what to keep in mind when pricing out storage units. While each company may vary, all use these bullet points to determine fair pricing on new units. Used units also use these points, however, they may also take other things into consideration.
Cost of raw steel
Cost of iron ore (which is used in steel production)
Where it is to be manufactured
Trade costs associated with manufacturing overseas
US market supply and demand
Possible shipping line cash flow
Keep in mind that your location may often cause an increase or decrease in costs. If you happen to live near a port where shipping containers are delivered, the delivery fee to your home or business will be significantly lower than if you were to live more inland or in land locked states.
Storage container suppliers often obtain the largest price cuts as they deal directly with shipping ports and overseas manufacturers and order in bulk. Browsing inventory can help you get a better sense of what is available to you immediately versus what you will need to wait for. If you have something in mind, US Container Sales can look into what is available, what the costs are and how quickly the unit(s) can get to you.
Related Resources